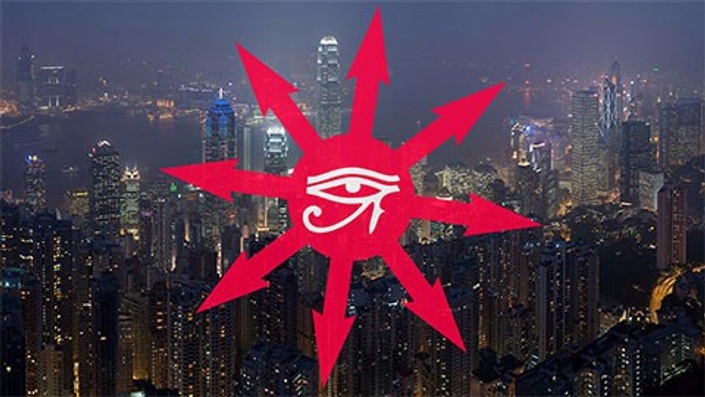 Advanced Chaos Magick
Master the advanced practices of Chaos Magick—from the fundamental grounds of awakened consciousness to corporate sorcery.
This is a class about power.
Let's not be coy here. The world constantly throws everything it's got at you and does its best to break you. You need to go right back at it with everything you've got just to stay afloat. And if you want to do more than stay afloat, you need an edge. You need power.
This isn't a class about the silly nonsense you will find the the New Age or occult sections of the bookstore.There's no robes, incense, crystals or any of that kindergarten stuff here. This is about Real Power—about diving head-first into the raw chaos, the symbolic blizzard of 21st century life, and using the techniques of Ecstasy and Belief Shifting to bend our hypercapitalist, hyperglobalized world to your will.
By the end of this class—which builds on the techniques introduced in my Introduction to Chaos Magick class and accelerates them to—you'll be armed with an arsenal of techniques for becoming that most dangerous of creatures, the Real Magician, the Corporate Sorcerer.
In this course, we'll cover:
• Personality Shifting: Creating an adaptive ego by constantly breaking your limits and assumptions about the world
• Belief Shifting: Surfing different reality streams by swapping out belief systems and religions like clothing, taking the most workable tools from each and leaving what's too constricting, and continually optimizing your personal reality
• Invocation: How to summon gods and goddesses, and align your consciousness with eternal principles through creative invocatory ritual. How to push it further and break the illusion of postmodern distance with deep devotion
• Servitor Creation and Evocation: How to create your own imaginary beings and thought forms to bring into reality
• The Chapel of Extreme Experience: How and why to make the pursuit of ecstasy central to your life, as a method of radically increasing intelligence and self-knowledge
• The True Will in the Core of the Chaos: How to find the thread of the true self amid the chaos. Understanding the truth of Philip K. Dick's maxim that "Reality is that which, when you stop believing in it, doesn't go away"
• Using Meditation as a Way to Fast-Update Your Reality: The mechanics of establishing a long-term meditation practice, and how this interacts with the "maya" of sorcery
• Growing Up and Making Chaos Magick a Sustainable Practice: How the basic techniques of chaos magick can give way to the sustainable approach of the mature magician and spiritual seeker
This course will give you the magician's edge to succeed in a globalized economy—an edge that will put you head and shoulders over your dozing competition.
Your Instructor
Jason Louv is the author of the bestselling John Dee and the Empire of Angels, and is the author or editor of Generation Hex, Ultraculture Journal, Thee Psychick Bible, Monsanto vs. the World and Hyperworlds/Underworlds and many more.
In the "real world," Jason works as a mild-mannered journalist. In the "other world," he has spent almost two decades studying and practicing the world's esoteric spiritual systems under many gurus and mentors around the globe, including chaos magick, Hermeticism, Thelema, Advaita Vedanta, kriya yoga, Masonry, Sufism, Enochian, Neuro-Linguistic Programming, Reichian analysis, Tarot, I Ching, Taoism, Theravada, Vajrayana, Dzogchen, Emotional Freedom Technique, Nepali shamanism, psychedelic therapy and multiple healing modalities.
Frequently Asked Questions
When does the course start and finish?
The course starts now and never ends! It is a completely self-paced online course—you decide when you start and when you finish.
How long do I have access to the course?
How does lifetime access sound? After enrolling, you have unlimited access to this course for as long as you like—across any and all devices you own.
​What if I'm unhappy with the course?
We would never want you to be unhappy! If you're unsatisfied with your purchase, contact us in the first 30 days and we'll give you a full refund.
What People Are Saying
"I found this a great introductory course that gave context for using Chaos Magick in a grounded manner, and explained how to stay on an ethical path, integrating these practices into one's 'normal' life. Peeling away the corny trappings that often surround this type of subject matter is such a gift. I wish I'd had access to something oriented to spiritual development like this years ago." – Kate
NOTE! A full site subscription is less per month than buying an individual course—and you get everything.