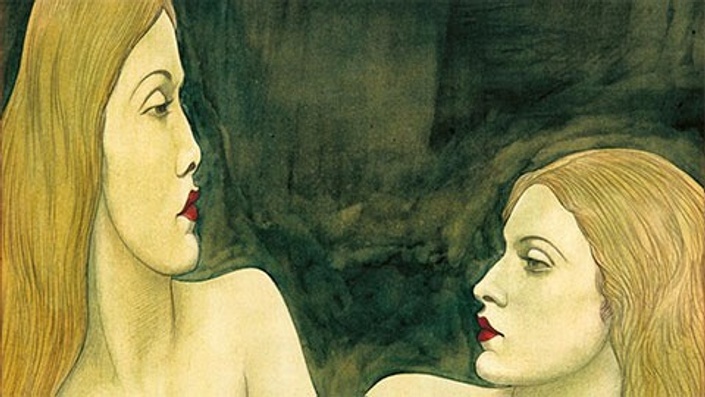 Magick and Art:
Sacred Techniques, Sacred Quest
Learn to use occult and magical techniques to access incredible inspiration—as an artist or writer of any kind.
Since the first cave paintings, magic and art have been inseparable. While modern society treats art as a commodity item to be traded like stock futures, art has always served a broader purpose in human society: to inspire, revitalize, and nourish the soul of a tribe or culture, or even to cause direct changes in reality. This sorceric history of art has largely been lost, or rather co-opted by the advertising industry.
But in a world in which art has been devalued, and artists and writers can at best hope for a few seconds of fragmented attention in a dumbed-down media landscape, how can we reclaim the shamanic function of art? How can art—by which I take the broadest definition, meaning not just fine art but writing, theater, filmmaking, music, sculpture, creative social media or any discipline imaginable—become a spiritual and sacred practice?
It's no accident that artists of every type have been drawn to magick and spirituality—writers like William S. Burroughs and Alan Moore; fine artists like Austin Osman Spare and Max Ernst; filmmakers like Alejandro Jodorowsky. And it's no surprise that the occult remains such an enduring interest of musicians—from rock icons like the Beatles, Stones, David Bowie and Led Zeppelin to the more studied industrial musicians of the 80s like Psychic TV and Coil to the many bands and underground collectives of the modern occult revival—even current megastars like Damon Albarn.
Magick is, if nothing else, the science of creativity and imagination, and offers a battery of techniques for accessing and drawing inspiration from the unconscious mind. But how to start?
In this class, we'll examine:
– The history of magic and art, and how magic and meditation played a role in their craft of artists throughout history
– A full range of methods for accessing the unconscious font of inspiration, including:
• "Astral travel" and scrying (a.k.a. creative visualization)
• Unlocking and tapping dream states for inspiration
• How to use synchronicity and your environment for creative breakthroughs
• The "incubation" technique of sending requests for inspiration to your unconscious
• The lost Renaissance art of constructing Memory Palaces, as practiced by the Hermetic tradition and used to utmost effect by modern artists like Stanley Kubrick.
• How to use the Gysin/Burroughs cut-up to "let the future leak through" and find incredible inspiration
– Developing the discipline to hone and force your art into existence
– Art as a sacred quest and sacred path, and how to face the cold realities of the modern economy while creating
And finally, and most potently of all:
– Techniques for charging art with magical intent and how to use art to effect reality, not just mirror it.
You'll walk away with a full toolkit for gaining inspiration for your art and infusing it with "otherworldly" qualities inaccessible to most—the tools to become a truly magical artist.
Your Instructor
Jason Louv is the author of the bestselling John Dee and the Empire of Angels, and is the author or editor of Generation Hex, Ultraculture Journal, Thee Psychick Bible, Monsanto vs. the World and Hyperworlds/Underworlds and many more.
In the "real world," Jason works as a mild-mannered journalist. In the "other world," he has spent almost two decades studying and practicing the world's esoteric spiritual systems under many gurus and mentors around the globe, including chaos magick, Hermeticism, Thelema, Advaita Vedanta, kriya yoga, Masonry, Sufism, Enochian, Neuro-Linguistic Programming, Reichian analysis, Tarot, I Ching, Taoism, Theravada, Vajrayana, Dzogchen, Emotional Freedom Technique, Nepali shamanism, psychedelic therapy and multiple healing modalities.
Frequently Asked Questions
When does the course start and finish?
The course starts now and never ends! It is a completely self-paced online course—you decide when you start and when you finish.
How long do I have access to the course?
How does lifetime access sound? After enrolling, you have unlimited access to this course for as long as you like—across any and all devices you own.
​What if I'm unhappy with the course?
We would never want you to be unhappy! If you're unsatisfied with your purchase, contact us in the first 30 days and we'll give you a full refund.

What People Are Saying

"Jason, thank you so much for the course. You gave such a wealth of clear-cut usable information in a very approachable format. I wasn't able to make the actual course when it was going on, as I had to tattoo during that time, but I watched it over the next couple of days and took a plethora of notes. Since then, I've been able to hone down my creative process quite a bit based on a lot of what you went over, and I've had a pretty prolific burst of work since then. It seems I can't put pencil/paintbrush to paper quickly enough. Thanks again." – Dave
NOTE! A full site subscription is less per month than buying an individual course—and you get everything.