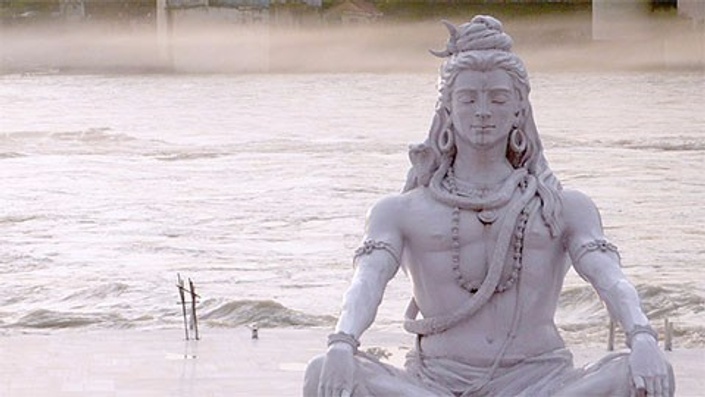 Hardcore Meditation: The 8 Limbs of Raja Yoga
How to meditate the real way—by following the ancient, eight-step Vedic science of Raja Yoga.
Please Note: This is the OLD meditation course. The vastly improved, updated, expanded and more comprehensive course is Mastering Meditation, available here.
Meditation is the most critically important skill anybody can learn.
Meditation can improve every single area of your life. It steadily develops your mind and calms your emotions, and ultimately allows you to transcend your ego and experience pure ecstasy. Meditation—or, as it is properly and classically known, raja yoga—is a step-by-step science that predates civilization, and can take us to the stars.
But it's not as easy to learn as you might think. The "meditation" and "yoga" that are sold in the open market are, frankly, watered-down or even fantasy versions of the true raja yoga. Out in the wild you'll find guided YouTube meditations, positive affirmations, the persistent corporate con of "mindfulness," all kinds of subpar techniques. You'll also find the $27 billion yoga industry, which is great but generally only teaches hatha yoga, which isn't even real yoga—it's just a preliminary series of stretches designed to relax your body so that you can begin to meditate properly. All of this can not only delude and confuse you by presenting half-truths or even lies, it can also drain your wallet and, more importantly, precious years of your life that could have been spent making real progress.
Far above and beyond these half-techniques lie the eight limbs of raja yoga, the Vedic science of controlling the body, breath and mind, progressing to awakening the subtle energy currents in the body and ultimately extinguishing the individual ego in silent bliss. It's the direct road to spiritual awakening—far more potent, if less glamorous, than magick. It's not for the lazy—it requires tremendous willpower—but the payoff is the greatest possible reward within a human life.
Plus, with some practice, you'll be able to get high whenever you like, without drugs, for free, forever.
In this five-hour class, we'll cover the eight limbs of raja yoga step by step. The course material is divided into simple sections that you can watch at your own pace, in whatever way works best for you. We'll cover:
1. Yama: How to structure your life so thay you can meditate daily
2. Niyama: How to keep drama out of your life so that your meditation isn't disturbed
3. Asana: Physical postures for meditation
4. Pranayama: Breathing techniques for stilling the mind and body and producing neurosomatic rapture
5. Pratyahara: Withdrawing the senses from the external world
6. Dharana: Concentrating the power of the mind into focused awareness
7. Dhyana: Achieving single-pointed concentration
8. Samadhi: Union, the Ultimate Goal of Yoga.
You'll get a solid grounding in the true theory and practice of meditation. One caveat: I'm not a guru, I'm only a teacher. To make serious progress after learning the basics, you will likely have to make contact with people who have actually become enlightened through meditation (try here and here) and who are able to guide students long term. But start with this class, and you'll be well on your way to walking the true, eternal, undying road of yoga.
(Image via.)
Your Instructor
Jason Louv is the author of the bestselling John Dee and the Empire of Angels, and is the author or editor of Generation Hex, Ultraculture Journal, Thee Psychick Bible, Monsanto vs. the World and Hyperworlds/Underworlds and many more.
In the "real world," Jason works as a mild-mannered journalist. In the "other world," he has spent almost two decades studying and practicing the world's esoteric spiritual systems under many gurus and mentors around the globe, including chaos magick, Hermeticism, Thelema, Advaita Vedanta, kriya yoga, Masonry, Sufism, Enochian, Neuro-Linguistic Programming, Reichian analysis, Tarot, I Ching, Taoism, Theravada, Vajrayana, Dzogchen, Emotional Freedom Technique, Nepali shamanism, psychedelic therapy and multiple healing modalities.
Course Curriculum
Please Review Before Course
Available in days
days after you enroll
Raja Yoga in Theory
Available in days
days after you enroll
Frequently Asked Questions
When does the course start and finish?
The course starts now and never ends! It is a completely self-paced online course—you decide when you start and when you finish.
How long do I have access to the course?
How does lifetime access sound? After enrolling, you have unlimited access to this course for as long as you like—across any and all devices you own.
​What if I'm unhappy with the course?
We would never want you to be unhappy! If you're unsatisfied with your purchase, contact us in the first 30 days and we'll give you a full refund.
What People Are Saying
"This was very helpful and straight to the point. I've been on my own meditation path for the past year and this realigned me with my intention." – Autumn
"I have been very impressed not only by the quality of the two courses I have taken, but also by the mannerisms of the instructor himself. Jason Louv is perhaps the most humble and polite occult figure of this century. The depth he goes into on each topic, maintains a feeling of 'keeping it real', which is just another way of saying that he remains cool and casual while showing us how to rewrite the universe in our own image. Classes are enjoyable, educational and they seem to be just the appropriate length to assault your mind, give it time to recover and digest enough of it to excite you into diving headfirst into the next one." – Gord D.

"Obtaining knowledge is the highest form of self-discipline, sharing it is pure strength, and trying to teach others is a form of divine inspiration." – Jeroen B.

NOTE! A full site subscription is less per month than buying an individual course—and you get everything.